NBP is considered one of the leading Bearing exporters in India. We make bearings or elements that contain rolling elements along with inner and outer races. The role of the bearing is to reduce friction and smoothen the rotation of the moving parts in a machine, engine, or automobile. They are mostly used for linear shaft applications. NBP, one of the best bearing manufacturers in India, makes a variety of bearings for different industries. We specialize in making cylindrical bearings, ball bearings, tapered bearings, ball bearings, spherical bearings, and much more.
What makes NBP one of the leading bearing companies in India?

Different Types of Bearings
We make a wide range of bearings in our manufacturing facility, using the latest equipment and machinery. If you want to buy a variety of bearings for different applications, then NBP is the perfect place for you! Apart from making very popular ball bearings, we also make several other types of bearings, including cylindrical roller bearings, tapered roller bearings, spherical bearings, deep grove ball bearings, and much more. We can even cater to specific bearings requirements as per your business needs. Feel free to discuss the details with our in-house bearing experts.

Expanding Continuously
We are what we are because of the clients that believe in us! We are proud to admit that we are expanding continuously, even in the global market. NBP, one of the trusted bearings exporters in India, also supplies bearings to companies in the international market. Our team makes sure that we meet all the necessary international bearing manufacturing, quality, packing, and supply standards.

Comprehensive Quality Tests
One of the most important reasons that make us one of the renowned bearings exporters in India is the quality of our products. Good quality bearings are important for the smooth functioning of a machine or a vehicle where the bearing is installed. Therefore, NBP makes top-quality bearings that improve the overall efficiency and functionality of the machine and vehicle. They reduce friction between the rotating parts and even help to save energy. Our bearings go through several quality checks before being supplied to our clients. A well-structured quality testing process is the key factor that makes us one of the most preferred bearing suppliers in India.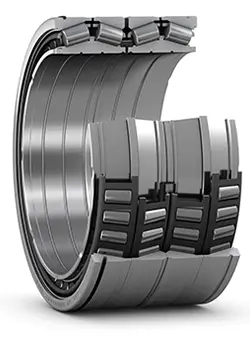 If you are interested in buying bearings from one of the most renowned bearing suppliers in India, Contact our team of bearings experts now to know more about products, pricing, and manufacturing strategies.
Today, many types of bearings are being made in the market for different areas such as OEM Bearings, Wheel hub bearings, Cylindrical roller bearings, and Industrial bearings which we also make, and our special identity can be done as Spherical roller bearings India.